WPC profile production making machine
Our WPC wood plastic composite profile extrusion machine, compounding domestic and abroad technology, with
characters of high automatic level, steady performance, large output and high efficiency. It is most professional for
producing various kinds of wpc profiles both outdoor and indoor by changing different moulds----that means in same
extrusion machine line, you can produce different wpc profiles by just changing different moulds!
| | |
| --- | --- |
| Main extruder | SJZ65/132 conical double screw extruder |
| Main motor | 37KW SIEMENS Beide Motor |
| Inverter | ABB |
| MAX output | 250KG |
| Suitable material | PVC-WPC powder, PE/PP-WPC granules/scrap |
| Installation size | 24X2X2.8m |
Features of Wood Plastic Decking/Fence/Wall Panel/Post Making Machine WPC Profile Machine
1. WPC profile production line uses specially designed screw and controlling system ensure excellent plasticization and stable extruding.
2. This WPC profile extrusion line is mainly used in WPC (PVC or PE ) floor, WPC auxiliary profile for the decorative door and small profiles.
3. Chaging the moulds,this wood plastic profile production line can manufacture many different kinds of profiles according to your requrest.
4. The new wood plastic composite functions same as natural wood,but with better performance.Resistant to water,corrosion and mildew.
Ideal for applications in high moisture environments.Recyclable to meet environmental protection requirements.
5. It adopts special design of screw and barrel, mould and extruder for wood plastic products. the products series: one step way
thick board extrusion line, one step way wpc profile extrusion line, wpc pelletizing extrusion line and different kinds of wpc moulds.
6. The wpc products can be produced by two step extrusion machine, first step to produce the wood pellet by twin screw parallel
extruder machine, the second step produce the wpc pp/pe profile by conical double screw extruder.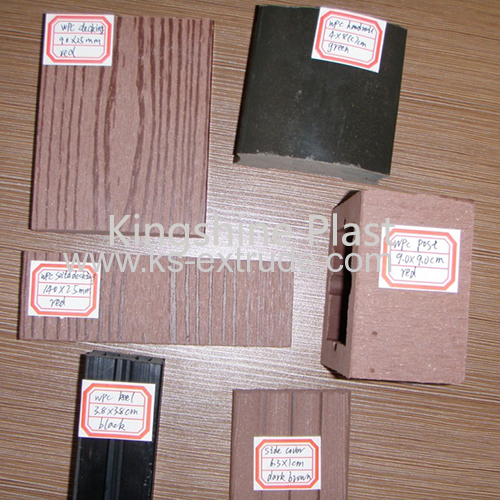 Application
PVC Profile has such characteristics as sound separation, sound absorption, heat separation, temperature-keeping,etc.
The material is incombustible, it is safe for use.All series of products have property of moisture proof, mildew proof, water
resistance, its vibration resistant effect if good. All series of products have property of weathering proof, its luster may
remain forever, it is not easy to be ageing. This product is light, storage & transport, construction are rather convenient.
This product can be worked with normal tools for wooden material. Drilling, sawing, nail, planing, bonding can be conducted
like wooden material. It is suitable for thermal shaping, thermal bending and fold processing. It can be welded, it can also be
bonded with other PVC material. The surface of this product is smooth, it can be printed.(Clean the surface before printing.)
Indoor
Door window profiles, furniture decorative profiles, foaming profiles, etc
Outdoor
WPC hollow decking, wpc solid decking, WPC beam/joist/keel, wpc wall cladding panel, wpc bench/chair, wpc fence/railing, upright post/pillar, wpc pavilion, wpc roof profiles, etc
Why choose us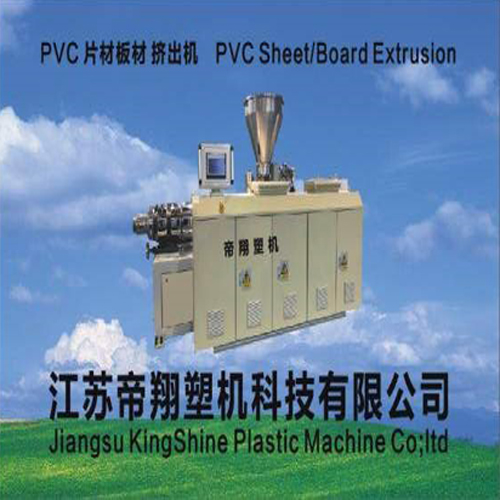 -Over 20 years' experience in manufacutre machines.
-Over 40 countries' customers in the world.
-Over 3000 machines are using.
-Over 50 lines send to the world per year.

Kingshine Machinery is dedicated to various solutions in Plastic Machine customized to customs satisfy.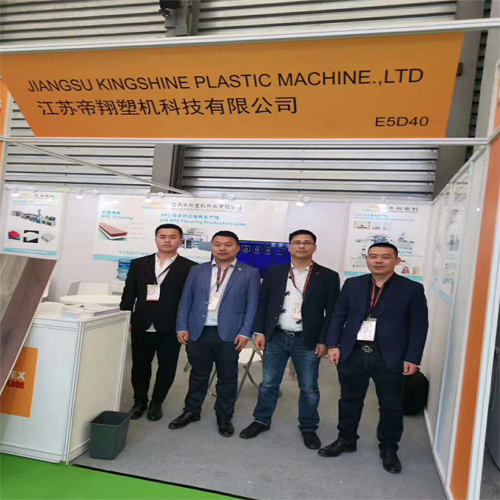 Joining the Exhibition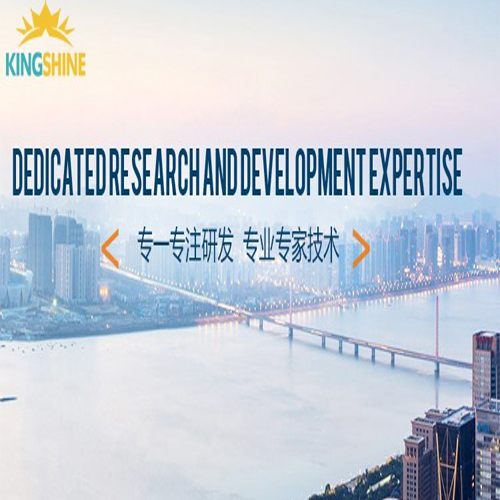 1.Our company will provide relevant information on various technology and business consulted by customers.
If clients want to visit our company, we will offer all they need for convenience.
2. After signing contract, company designs groundsill installation chart for water, electricity and gas of equipmentbasing
on real condition and customers'requirement and provides detail order list and matching manufacture forreference for customer.
3. After equipment arrival, our service personnel will arrive at posted locale for installaion, debugging, training andtechnology transfer
till customers can operate independently and manufactures eligible products. Service personnelhave to arrive at customer's locale in
time when we provide service for client again.
Pre-sale service
-To provide information and market research.
-To provide consultation,to provide many kinds of conveniences and market service,etc.
-To help customers make the project planning and system requirements analysis.
-Take our products maximum to meet clients' requirements.
-To play the greatest overall economic benefits of customers' investment.
After-sale service
-To install products and test products freely for customers.
-To provide the formulas and technologies of relevant products and the information of chemical materials manufactories.
-To direct technology aspect of relevant use according to customers' requirements.
-To provide technical training for clients' employees.
-To be responsible for maintenance service, door-to-door service under the necessary circumstance.
Technology support
-To provide installation and test for the machine.
-To provide formulas and technology of relevant products.
-To provide information of chemical material manufactories.
-To provide technical training for clients' employees.