Rigid vinyl plank flooring production line
SPC flooring is produced by melted PVC resin and caco3,formed by four or five calendar machine with various color film and wear layer laminated as well UV coating layer on top.SPC flooring is the new environment-friendly material featuring zero-formaldehyde emission. With its excellent stability and durability,SPC flooring has solved the problem of damp deformation of real wood floor and the formaldehyde problem of other decoration materials.
Online EIR
The EIR online technology developed by our company,is suitable for the process of online matching the color film pattern and embossing pattern in SPC and LVT floor extrusion production.It can completely replace the hot press process,with the advantages of high efficiency,energy saving and manpower saving. Our company adopt the latest control technology to achieve high precision online EIR and long term stable running with qualified product.
Flow chart for SPC flooring production with online lamination
Mixing → Extrusion/online lamination & EIR system →UV coating line→Slitting →Grooving → Bottom laminating IXPE pads → Packing
Mixer/Vacuum loader → Extruder → Mould → Four/Five roller calendar →Temp controller → Cooling bracket → Trimming → Haul off → Cutter → Auto stacker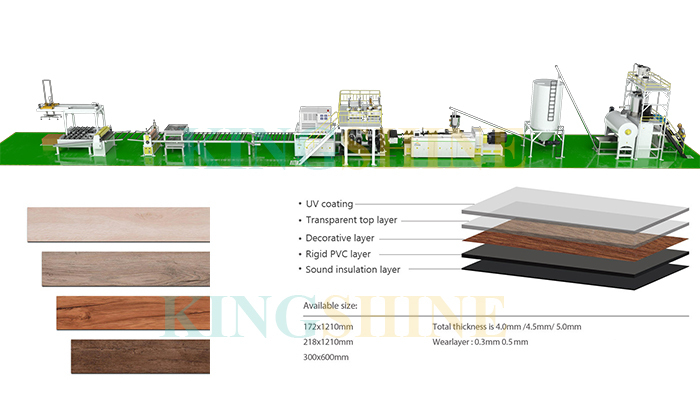 SPC floor features
Water-proof / Will not expand and contract
Stable in high/low temperature
Installation on any surface
Superior scratch resistance
Perfect sound absorbent
Pet proof / Easy to install

■ Patent design,easy to operation and energy saving,with high efficient and stable running.
■ Better plasticization and more peel strength on product lamination surface
■ Better control on shrinkage of films
■ Easier change rolls of pattern film and wear film
■ Suitable for SPC and LVT formulation with good performance on sheet.
■ Computerized control with prones.

I. Design parameters

No.
Items
Description
01
Operation conditions
380V/3 phases/60Hz. (or customizable as per different country's standard voltage )
02
Materials used
PVC powder, calcium carbonate, stabilizer, lubricant, small materials.
Main Material and proportion: PVC: CaCo3 = 1:1 :2~3
03
Extrusion rate
1000~1350kg/h; Line speed: 1.8~2.4m/min Daily capacity: 25-30 ton/ 24hours ,Monthly capacity (30days, each day working 3 shifts 24 hours): 90,000m2/Line/Month
04
Product specifications
Maximum width is 1050mm, thickness =2-9mm.
Normal finished board width: 980mm
Normal finished board thickness: δ=1.5~4.0mm
05
Total power of whole machine line
About 700KW (The exact total power may something floating as per different configuration requirements

II.Equipment List & Quantity

| | | | |
| --- | --- | --- | --- |
| No. | Equipment Name | Quantity | Remark |
| 01 | Φ110/220 Conical twin-screw extruder | 1 Set | |
| 02 | Extrusion die | 1 Set | |
| 03 | Five-roller calender | 1 Set | |
| 04 | Film unwinding mechanism & magnetic powder controller | 2 Units | For two working position |
| 05 | Oil roller heating system (integral) | 1 Set | 4 units |
| 06 | Cooling bracket | 1 unit | |
| 07 | Longitudinal edge cutting mechanism | 1 unit | |
| 08 | Traction machine | 1 sets | |
| 09 | Length meter | 1 Set | |
| 10 | Plate shearing machine | 1 set | |
| 11 | Automatic plate lifting and stacking system | 1 unit | |
| 12 | Electric control cabinet | 1 unit | |
| 13 | Cooing water spray tank | 1 unit | |
| 14 | wear layer pre-heat device | 1 unit | |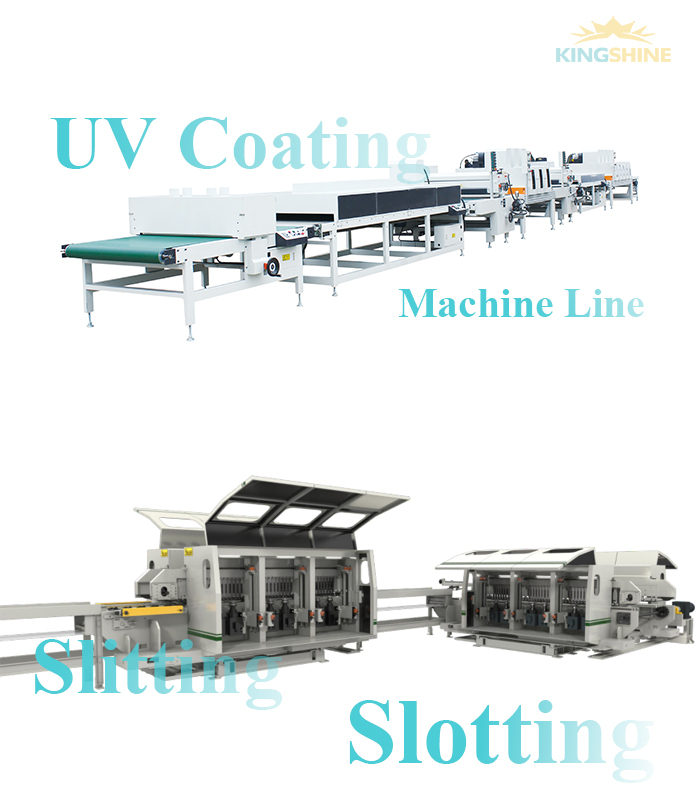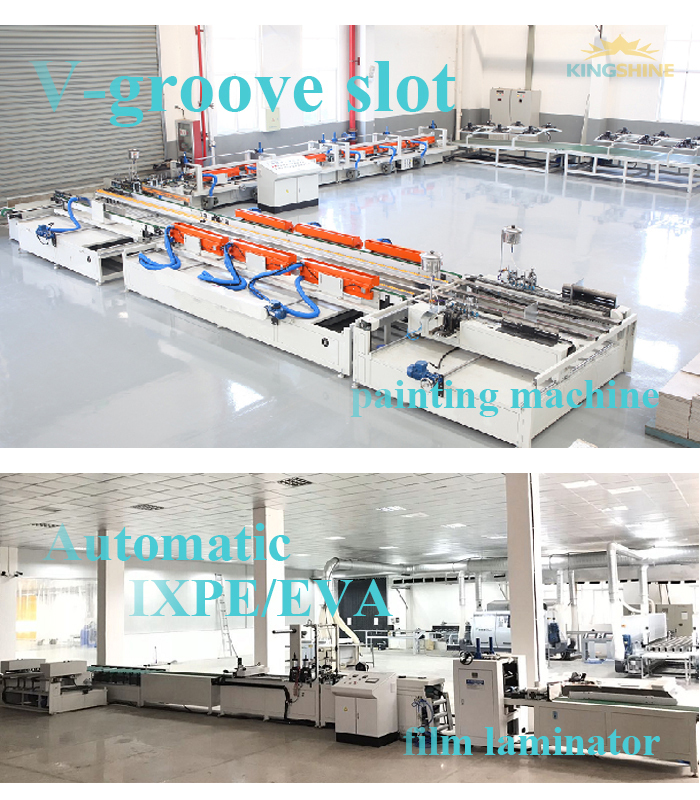 III. Advantages of KINGSHINE SPC Production Machine Line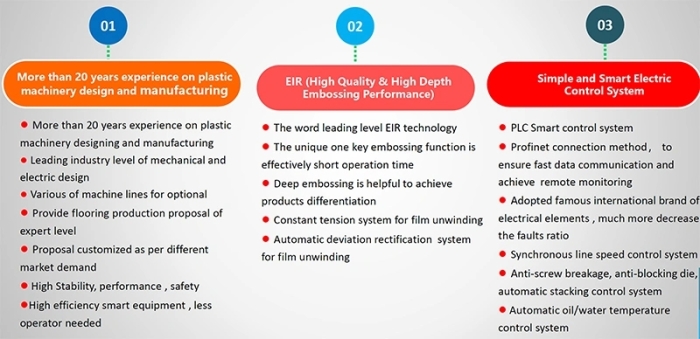 IV. Service

VII. Project case